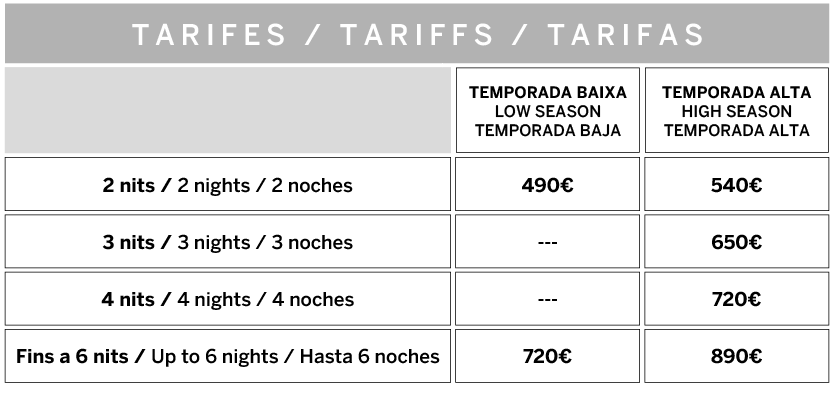 Spring and summer are traditionally the more appreciated seasons for rural tourism. However, Montseny is also very visited in autumn. Reasons for that are the falling of leafs, which offers a colourful scenery, the mushroom fever and the interest in chestnuts. With the intention of making the visits to Montseny less seasonal, we want to offer a competitive price, specially in winter and early autumn (January and September).
Tariffs valid until 31.12.2022. The prices include the rent of the whole house for a maximum of 8 persons. It is not possible to rent per rooms. There are two suppletory beds (20€/bed and night) and two beds for newborns (free).
Low Season: January and September. High Season: Rest of the year. Prices include a 10% of VAT. The tourist tax is not included. It amounts 0,60€ per person and day or fraction of day. Those aged less than 17 are exempt of payment.
Payment methods: Bank transfer or cash. Reservations are confirmed via a pre-payment of the first night.
Special conditions: Pets are not allowed
Timetable: Check-in after 17h . Check-out until 12h. For other schedules contact us.